Cowboy Shooting: How to be a Registered Member of SASS
There was a time when you were a kid (or perhaps until now) when you would be transported back in time with classic westerns like "Have Gun, Will Travel," "Bonanza," and "Rawhide." You might even wonder what it would be like to be the good guy, or even the bad guy, back in the Old West's cowboy shooting days.
What if we told you that you don't need a time machine to travel back to the 1800's? What if you could experience the wild West lifestyle, the smell of gunpowder and the excitement of a western shootout today? That would all be possible with Single Action Shooting Society (SASS) and the fast-growing hobby sport of Cowboy Action Shooting (CAS).
You could have mixed feelings about this and ask a lot of questions like:
Steps to register in SASS cowboy shooting
If you are interested to be a part of the cowboy action shooting phenomenon, simply do an online search for a SASS application form. You can also call them at 1-877-411-SASS and request the necessary paperwork sent to you.
As part of your CAS application requirements, you will be asked what your desired SASS name will be. This is known as your alias, the name that you will go by as long as you stay as an active member of SASS.
Your alias can be based on a real-life historical figure or a fictional character of the Old West like Cactus Flower or Nevada Jones. It can also be adapted from professions of the era like Dance Hall Claire or Sawbones Willie. However it is based, your alias is uniquely your own. It can tell a lot about you and the personality you want to project in three words or less. As long as they are not obscene or offensive, the names you can come up with are only limited by your imagination.
Here's how to create your unique cowboy action shooting alias
The SASS Shooters Handbook
When you apply for CAS membership, you will be sent a current copy of the SASS official publication, the SASS Shooters Handbook. It will inform you of the various cowboy shooting events as well as rules and regulations that keep the sport both enjoyable and safe. All event guidelines are in accordance with SASS goal for the safe and consistent operation of CAS matches.
The SASS Shooters Handbook will also inform you of the various types of firearms that are allowed by Single Action Shooting Society. It describes the firearms that will be used in local matches and regional competitions. These include single action revolvers, lever rifles and shotguns. Their respective calibers, ammunition, barrel lengths,
Accessories, modifications (if any), and other details are also outlined in the Handbook. Firearms specifications are strictly set in place so every shooter will be able to compete fairly with one another based only on their equipment.
Dressing up for the event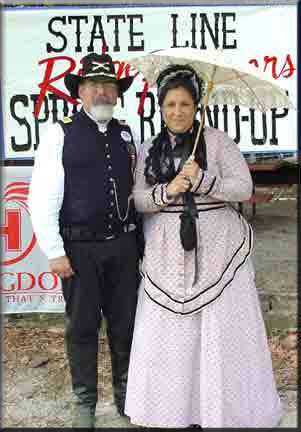 Most members find that the shooting matches are only half the fun in CAS. The other fun attraction is the dressing up in the style of the Old West. In the SASS Shooters Handbook, under Clothing and Accouterments, you'll find the terms of clothing for the sport. Members are allowed to choose the costume they wish to wear, as long as they are the style typical of the late 1800's or a B-western movie or TV series.
The reason for coming to the event in costume is stated as follows:
"SASS puts a great deal of emphasis on costuming because it adds so much to the uniqueness of our game and helps create a festive, informal atmosphere that supports the friendly, fraternal feeling we encourage in our competitors."
Know more about Getting Dressed Up for CAS Events here
Get your wife and family started in the game
Do you want your entire family involved in the sport? No problem. The sports event atmosphere is actually geared for the entire family. In fact, SASS encourages you to bring your children along. However, only kids 12 years old or over are allowed to shoot and that they need to be registered members of SASS. Nevertheless, you can bring your kids to the event to have fun.
You are also encouraged to bring relatives and friends because the cowboy shooting event is like a one big fun affair. There are outlets that sell food and refreshments. You can also find clothing and accessories sellers. Everyone will find what they want here. The CAS event is also one way of sharing quality and fun time with your family.